Rick Lang "That's What I Love About Christmas"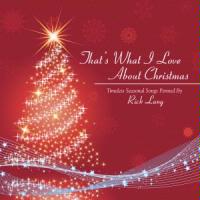 SONGS FROM ACCLAIMED SONGWRITER RICK LANG FEATURED ON NEW COLLECTION
THAT'S WHAT I LOVE ABOUT CHRISTMAS
"A beautiful acoustic roots holiday collection, drenched with an infusion of jazz rhythms and folk sensibilities."
****************************************************
"The mix of genres is like the surprise in your Christmas Gifts. Sophisticated all the way through. "That's What I Love About Christmas" is a CD you will want to keep playing all through the holiday season."
Stan Hitchock - Blue Highways TV
RLM Records and New England songwriter Rick Lang release a stellar classic collection of Christmas and holiday music on October 7th titled That's What I Love About Christmas. In a rare move, all songs on the album are from the pen of this award winning songwriter only and feature well known vocalists and musicians from the world of jazz, folk and bluegrass.
A native of New Hampshire, Lang has become well known in the bluegrass and acoustic worlds. His songs have been covered by some of the most renown artists in the Bluegrass, Southern Gospel and even Jazz world with over 60 song cuts to his credit and the number keeps growing each year.
Bluegrass great and multi-winning IBMA Male Vocalist of the Year, Russell Moore of IIIrd Tyme Out says, "Great arrangements around great lyrics and I have no doubt that they will stand the test of time and become classic Christmas songs that people will revisit year after year!"
Artists on the album include the incomparable jazz vocalist Annie Sellick, mandolin prodigy and Berklee School of Music graduate Sierra Hull, banjo master and Alison Krauss & Union Station band member Ron Block, producer and guitarist Stephen Mougin, and many more.
These are songs for the ages and Lang loves that. "Images of a fresh fallen snow, icicles glistening in the sun, frost on the window, colored Christmas lights blinking on the tree, listening to my favorite Christmas songs during the Holidays, warming myself around the fireplace, all bring back fond memories going back to my childhood," he recalls. His music recalls a sound and style from yesteryear that helps usher in the spirit of the holidays in grand style.
Songwriter and performer Chris Stuart said, "It sounds like a classic Christmas album and it may well become one soon. Producer Stephen Mougin did a terrific job of bringing out the soul of every Rick Lang song. There's a playfulness as well as spiritual tone to the album that reminds me of the best Christmas albums. I'm not waiting till December to play this, though. It's already on heavy rotation in my house!"
Biography