Jim Dineen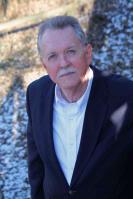 Did you ever think life just wasn't treating you right? Maybe things were just going along great and then Boom!--something happens to change your entire life's focus?
Jim Dineen's life has certainly been a bit like that, and if he were truthful, he sometimes wondered who was out to get him... and why? He knew that wasn't really the case, but it just felt like no matter what he did, some stumbling block always jumped up and tripped him.
Biography
Jim was shocked and overwhelmed when he was diagnosed with kidney disease in 1998. "I'd never been sick in my life," he says. Even with the best of care, sometimes life has different plans for us and in 1998, Jim was about to discover just how different those plans were because he was about to be diagnosed with kidney disease.

Jim was self-employed at the time of his diagnosis and subsequently was forced to start from scratch to regain his life. At times, things just seemed to be spiraling out of control. He was told that he would not live for another two years and the challenges seemed too great to digest.

But then Jim reminded himself that stumbling blocks, challenges, valleys, or however you'd like to classify them, come in all sizes. "I've cried as much as anyone, screamed at the world more than most, and reminded God on more than one occasion that I just didn't deserve all this," Jim recalls. But the message that always came back to him was "Meet the Challenge." And so, he did his best to rise and climb whatever mountain got in his way.

In 2000, Jim found himself face to face with a new friend - dialysis. After three years on both in-center and at home dialysis programs, Jim decided to fight a hard fight to get a transplant approved. This would prove to be one of his most harrowing challenges. "I didn't really need another challenge," he recalls. "But it was mine, and I was going to overcome this one, too. It took me a year and the support of my wife who was also my kidney donor, my daughters, brothers, father, and numerous friends to convince the transplant team that I could handle a new kidney. My fear of not being accepted as a transplant candidate drove me and I would run into even more challenges, but each one became just another stumbling block to overcome. 'One more block to step over!' became my personal motto," he says.

In 2003, Jim became the recipient of a live donor kidney courtesy of his wife of forty years, Joyce. He knows he's seen alot in his life and he wants to help others get through their stumbling blocks now. "If people, no matter what situation they are in, can direct their energy and attitude to 'getting well', I believe they can win their battles," says Jim. "I want people to know they can do so much more for themselves and I want to convey to care givers to be better communicators and listeners of people. You don't have to be going through a terrible illness to understand this. It can apply to any aspect of life. Don't quit. You just can't. I've seen far too many people just quit," he says.

Jim's story was featured in Readers Digest Magazine in June, 2004 and he and Joyce are two of the faces for live organ donorship in a Cincinnati Kidney Foundation brochure on organ donation.

His experience has been retold in various newspapers and the Miami University Alumni magazine and he has also been published in various web based Kidney Related sites such as "ikidney" a forerunner to "Kidneytimes." He continues to write for the Renal Support Network on a regular basis.